3/25/2019
The pillow is exactly what I wanted. So perfect for my antique loveseat.
11/12/2018
Super great company. Friendly and accommodating. Love the pillows.
10/24/2018
Exactly as described. Nice small pillow. I had contacted seller when I went to buy a second to check on delivery. Seller went well beyond expected and even included a birthday note to my granddaughter!
04/10/2018
Bought as a gift for a friend & she loved it!
Recent Etsy Reviews
Perfect addition to my prayer closet! It is still a work in progress but my "Trust God…Period" is perfect! Thanks for the free gift.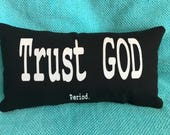 jrose on Feb 14, 2018
5 out of 5 stars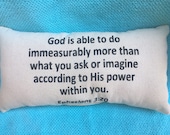 khesss on Nov 1, 2017
5 out of 5 stars
I love my pillow! I received it sooner than the delivery date and the packaging was beautiful. I felt like I was opening a special, beautiful gift…which I was. The handwritten note…made me so happy. I can tell love and care were put into this purchase. I will definitely buy again.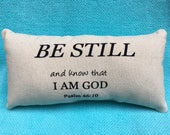 Recent Amazon Reviews
5 out of 5 stars
Bought as a gift for a friend & she loved it!
By Amazon Customer on April 10. 2018.
5 out of 5 starsThank you so much for the beautiful handmade "Believe" pillow. I most appreciated the kind note and pretty gift wrap included. Alot of kindness went into this cute order. Looking forward to ordering more in the near future. Blessings, K. Hayes
By Amazon Customer on January 7, 2018.
5 out of 5 stars
Well made pillow, smaller than expected but I could have overlooked the Dimensions.  Overall nice addition to my decor.
By Amazon Customer on November 7, 2017.
5 out of 5 stars
Love it!
By Amazon Customer Carolyn h. on September 20, 2017.
3 out of 5 stars
I thought it would be bigger but it's still cute.
By Amazon Customer on August 10, 2017.
5 out of 5 stars
always helpful. cares about customer. a joy to do business with!
By Amazon Customer on April 28, 2017.
Top Customer Reviews
By janet  on June 27, 2016
Verified Purchase
I love these simple but beautiful pillows. Their simplicity fits into any decor, but the real beauty is the inspiration. I almost died once this year with a total bleeding and given only 20 minutes to live. I told God I was surrendered to His will and the peace I felt, knowing I was dying is beyond words and it has stayed with me. I do not want to die but I am not afraid to die. If you are struggling with adversity and fearful, feeling powerless or unloved, I highly recommend this or any of the other pillows highly. The bleed out left me with some temporary short term memory loss, and when I forget God's promise, and my day is just not peaceful, I look at my pillow and my soul and spirit immediately are inspired and lifted. God Bless .
Verified Purchase
I highly recommend this product. I just opened my new pillow and it is perfect! My order arrived in a timely manner and it was even wrapped in pretty tissue paper. I have a friend that I see every week whose husband has terminal cancer. I will keep this in the trunk of my car and give it to her when she's had a particularly bad night.
This is a beautiful service that you are providing. I plan to buy more pillows to uplift others as different situations arise. Thanks so much for making it so easy for me to inspire my dear friends.
I'm not sure when the pillow arrived because I had not checked my mail in a few days, but I know that it came in a very timely manner. The process was very easy. Will get back to you soon.

I love it! It is very unique and chic. Be aware this is a pillow sham and you must provide a pillow. Thankfully I had one that fits perfectly that completes the look.
ETSY

Well made and exactly what I expected. The wrong pillow was shipped originally but the shipper corrected it immediately at her expense. Things happen and she handled it with excellent customer service.

Received item fast! Love it looks great on my couch and free gift looks great on my table thanks! 🙂
granddaughter loved it nothing like it in stores

By Amazon Customer on January 2, 2017.

By Amber  on December 8, 2016.